Industry solutions
Inviting, safe, hygienic and well controlled: building technology for shopping centres
Shopping centres demand attractively designed shopping spaces: flexible window and door solutions are a key component of creating these. They also fulfil an important role as part of safety technology and building automation.
State-of-the-art door and safety technology in the entrance area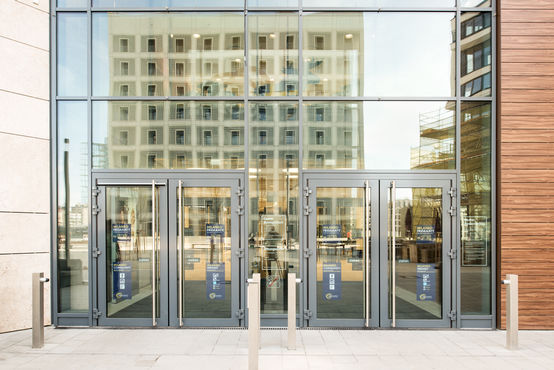 A vestibule with four automatic doors at the Milaneo shopping centre in Stuttgart © Jürgen Pollak / GEZE GmbH
Multifunctional solutions for door and safety technology are used in the entrance area to a shopping centre: the focus is also on accessibility, hygiene and comfort for visitors to the centre, as is safety in the event of an emergency. The GEZE solution for the Milaneo shopping centre in Stuttgart shows how we can meet these demands. 12 vestibules, each with four automatic swing doors, allow visitors to flow freely during everyday operation. In addition, emergency exit protection has also been integrated to monitor all opening and closing processes and automatically release the doors in the event of an emergency. In a fire, the doors provide natural smoke and heat exhaust ventilation: retractable arm drives push the doors open wide and keep them open. The automatic swing doors have another benefit in normal operation: they close reliably to improve the building's energy balance. The automatic doors were one of the criteria that helped the Milaneo achieve pre-certification from the German Sustainable Building Council (DGNB).
Movable glass elements allow for flexible store design
GEZE solutions impress in one of Scandinavia's largest shopping centres, the Mall of Scandinavia in the Swedish city of Solna: GEZE collaborated with AB Fasadglas to develop and deliver the two sets of doors in the entrance area to the 11-screen cinema with 500 seat IMAX auditorium. The mall's round logo was screen printed over the entire front – but the truly unique thing about the design is the automatic connection to the film projectors:
Since function and design were both important to our client, GEZE was the natural choice for myself and the architect. In addition, GEZE is highly responsible, constructive, and solution-focused in all of its projects.
Diana Jurukov, Fasadglas Project Manager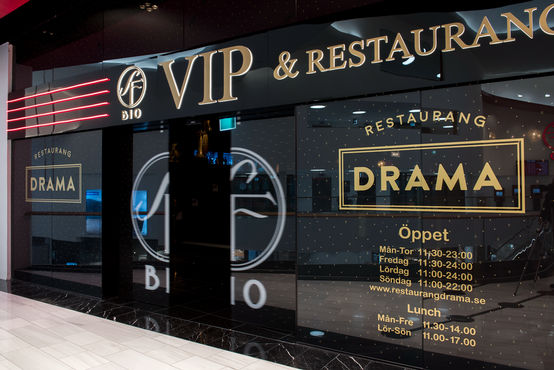 Manual sliding wall systems allow for flexible shop design. © GEZE GmbH
In general, shopping centre stores need to be designed as both flexible and attractive presentation areas. These requirements can easily be implemented with manual sliding wall systems (MSW) from GEZE. Such systems open, separate, or divide rooms, while offering a modular design and highly flexible application. A couple of examples:
in general, horizontal fixed and movable leaf elements can be differentiated. The former can be used as double-action doors, and the latter as sliding or sliding swing doors. Sliding doors can also be converted into fully functional swing doors with two handles.
The door elements on the manual sliding wall are clamped at the top and bottom across the entire element width in the support and clamping profiles GEZE offers three design lines for these profiles: Classicline, Pureline and Protectline. Different finishes and colour schemes can be supplied according to individual wishes.
The intelligent locking systems contribute to the simple handling: the combination of manual locking devices, which are used between two sliding panels and are invisible when the glass leaf is closed, and special front manual locking devices for sliding leaves next to a wall or door means that only one single Euro profile cylinder floor lock is necessary for a system.
Last but not least, GEZE offers a variety of solutions for parking management with sliding walls. Depending on the available space, sliding walls can be positioned so as not to lose any space in the entrance area.
Just get in touch! Our consultants will be happy to help you implement your projects.
Hygiene in the retail trade with automatic door systems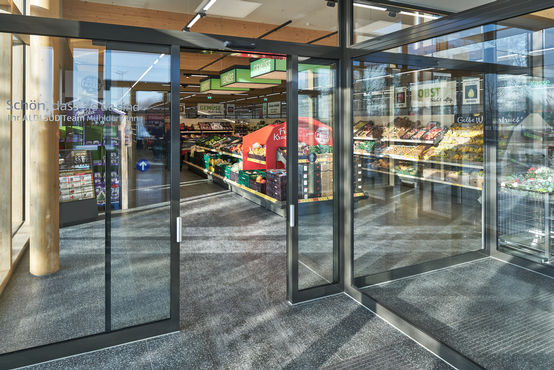 Automatic Sliding door system ECdrive T2 at Aldi Süd in Mühldorf © Robert Sprang / GEZE GmbH
GEZE automatic door systems naturally ensure accessibility. Our products also provide effective support to the retail trade in implementing hygiene measures. The food trade is subject to particularly stringent hygiene demands. But regardless of your sector, be it a single retail outlet or an entire shopping centre: a lot of people will touch the manually operated functional elements in these high traffic areas, causing problems in terms of hygiene.
Automatic swing doors, sliding doors and revolving doors by GEZE help to establish hygienic conditions in such situations, as well as ensuring the safety of everyone concerned because you can pass through the doors in the entrance area and within the sales areas without making any contact, all thanks to our reliable drive units. Coupled with our activation devices and sensors, we can provide customised hygienic doors to cater to any situation.
Go to the GEZE Aldi Süd case study
The next generation of networking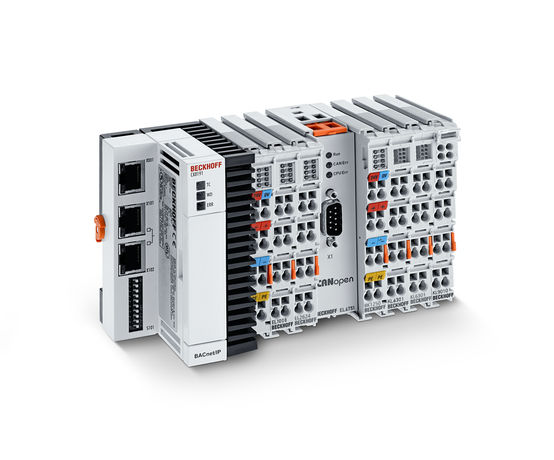 © GEZE GmbH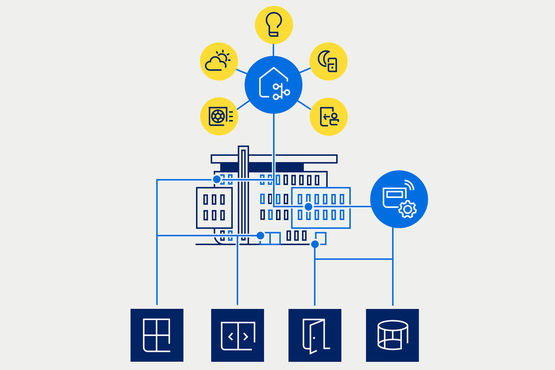 GEZE window and door drives can be integrated into a building automation system via open interfaces © GEZE GmbH
With myGEZE Control, we bridge the gap in building automation with a smart solution for networking door, window and safety systems. The myGEZE Control connectivity platform with modular software and open interfaces heralds completely new approaches to building automation for planners and operators everywhere.
For greater efficiency, safety and comfort
For dynamic safety and fire protection concepts, intelligent smoke and heat extraction and the targeted release of escape routes
For more networking options
The central device is a standard control unit (PLC). The hardware components consist of an embedded PC control system that has a certified BACnet communication interface. myGEZE Control can be integrated into building management system, danger management and CAFM systems from any manufacturer. In addition, stand-alone visualisation solutions for GEZE product systems are made possible by the myGEZE Visu software option. The advantages of the new platform: Automated processes and central monitoring make the system easier, more comfortable and safer to use – while also enabling energy-efficient operation of the entire building. So you have complete control!